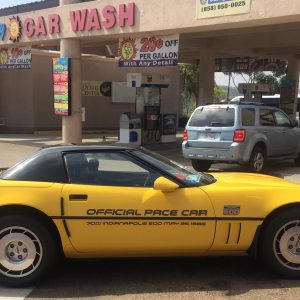 Description
Yellow with white soft top and factory CCR black hard top.  Graphite interior with aftermarket rosewood dashboard kit.
Original 350 c.i. L98 engine, automatic transmission, 235 HP.
One-owner Corvette with 140,ooo miles.
Options include AG9 power driver seat, AU3 power door locks, K34 cruise control, UU8 Delco-Bose AM/FM cassette, V56 luggage rack.
Michelin Pilot XGT V4 tires.
Asking $15,000.00.  Contact Marilyn at mbredimus@san.rr.com