On Friday, February 12, COCSD members Jeff and Kerry Butler, Sam and Beth Campbell, Lee and Pat Caudel, George and Diane Dauphine, Tom Kelly and Marie DeMarbiex, Howard and Terry Kendall, Keith Kingsley and Gloria Jones, Jim and Viki Lassiter, Bob Pratt and brother Ken, Mike and Christine Wilbanks, Lisa and I gathered for the Grand Canyon/Valentine's Day Run. To say that the trip from San Diego to Williams, Arizona didn't go quite as planned would be a serious understatement. But the COCSD caravan eventually arrived, and just in time for everyone to get checked in and make it to the hotel bar in time for snacks and drinks.
We arose Saturday morning and ventured outdoors. It was cold! That is, cold from a San Diego perspective. The weather was about as good as you could possibly expect for Northern Arizona in the middle of February. I was surprised by how much snow was on the ground. We walked the short distance from the hotel to the Grand Canyon Railway depot and climbed aboard the First Class/Observation Dome Car "Coconino". The dome portion of the car has 24 seats. There were 22 of us in the COCSD group, so one non-club couple enjoyed (endured?) our company for the ride to the Canyon. Coconino was built in 1954, the same year that Corvettes were initially offered for sale. It, along with the dozen or so other cars, was pulled by an old steam locomotive that was converted to burn used vegetable oil and utilized reclaimed snow melt water. It was very much like a trip back in time.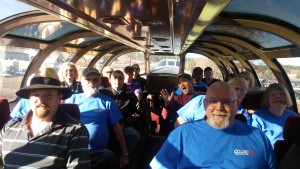 Along the way to the Canyon, we passed a lot of interesting scenery, had a sing-along, and had a visit from a photographer. Along with photos of individual couples, she decided that a group photo was also necessary. Trying to arrange 22 people across the width of a railway car was both strenuous and hilarious. But I think we all eventually found a spot to stand, sit, kneel or otherwise contort into a position where we could all be seen.
The Grand Canyon was spectacular, with mostly clear skies above it. By the time we arrived, the temperature was in the upper 50s, and it climbed to low 60s while we hit the trails. Keith and Gloria took a bus tour, but the rest of us chose to walk. Lisa and I walked the 3.5 miles along the rim to Mather point, where we caught a shuttle back to the visitor center. Most of the COCSD group ended up on the same shuttle.
We climbed back onto the train for the return ride. Our hostess/attendant, Conya Rae found out that Tom had both retired and celebrated a birthday the previous Thursday, so she did her best Marilyn Monroe rendition of "Happy Birthday". The train was boarded by "outlaws" and we all played along, despite the fact that our "bad guy" had a Romanian/Russian accent. I kept expecting him to threaten "big trouble for moose and squirrel".
Saturday night, COCSD lifetime members Andy and Mona Keksis joined Sam, Beth, Lisa and me for dinner. They live in Flagstaff and still own the '59 Corvette that Andy had when he joined COCSD in 1961. It was great seeing them and talking about what the Club was like in the '60s and '70s.
Jim and Viki hosted a happy hour in their room after dinner, attended by about half of the group. We received a stern warning from the hotel security for being too loud, so we closed the door.
Most of the group drove back together on Sunday, taking a more winding route of mostly two-lane highways. We drove through Prescott Valley, Skull Valley and Peeples Valley. The most difficult part of the trip was trying to find a bathroom stop in Western Arizona on a Sunday morning. But we all made it home safely.
Thanks to Tom and Howard for all of their efforts in planning a wonderful weekend. We're looking forward to the next COCSD road trip.
Craig Moya