The fifth K1 Speed Challenge was held on Saturday, February 20. The competition pitted members of COCSD against members of the San Diego Miata Club (SDMC) and Corvettes of San Diego (CoSD).
The race format was the same as previous Challenges, using K1 Speed's mini-Grand Prix. Each club had its own 14-lap qualifying session. Because CoSD fielded only three racers, they were joined by some SDMC members for their qualifying session. Once the qualifying sessions were completed, the competitors were divided into three race groups. Qualifiers 17 through 24 ran the first 16-lap race for position as the "Fast" group. The racers were grided on the front straight, with the fastest qualifier in the group at the front, the second qualifier behind him, and so forth. Each race began with a standing start.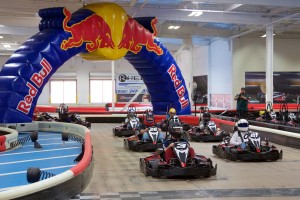 Following the "Fast" group race was the "Very Fast" group, with qualifiers 9 through 16. The "Ridiculously Fast" group, made up of qualifiers 1 through 8, ran the last race of the event. The top three finishers in each group received K1 Speed medals.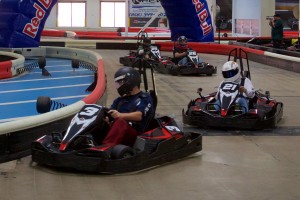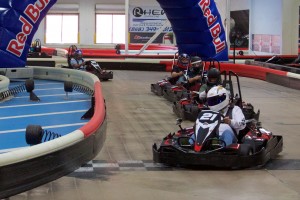 The race results:
"Ridiculously Fast" group
1. Craig Moya, SDMC
2. Randy Brown, COCSD
3. Nima Abrahim, SDMC
4. Jeff Wilkinson, COCSD
5. Randy Standke, COCSD
6. Greg Lee, SDMC
7. Aurora Williams, SDMC
8. Tristan Gale, CoSD
"Very Fast" group
9. Ed Griffin, CoSD
10. Eric Gatley, COCSD
11. Ken Hurd, SDMC
12. Jake Taylor, COCSD
13. Robbie Meyer, SDMC
14. Buddy Griffin, CoSD
15. Bob Van Hook, SDMC
16. Gene Streeter, SDMC
"Fast" group
17. Mark Booth, SDMC
18. Daryled Bristol, SDMC
19. Greg Magill, COCSD
20. Steve Waid, SDMC
21. Bill Belt, COCSD
22. Howard Kendall, COCSD
23. Denis Meyer, SDMC
24. David Pelsue, SDMC
Because COCSD beat the other two clubs so convincingly last time, and since Lisa and I are members of SDMC (no, we don't own a Miata, but they don't care), I chose to add a bit of fun and "drama" by racing for SDMC. Yes, they did offer a couple of bribes. They're on the hook to have at least 25 entries in Main Street America this year. And one of them owes me an apple pie. It turned out to be a pretty cheap investment, as I was able to come out on top. Check out the video from my perspective.  Based upon the Formula 1 points distribution (what else would you use?), SDMC came out the winner with 54 points, followed by COCSD with 41 and CoSD with 6.
As has become our tradition, we had the "official" awards ceremony at the Corvette Diner afterwards. Ed Griffin won the "Sandbagger Award" for winning the "Very Fast" group race after not being quite fast enough to qualify for the "Ridiculously Fast" group. Greg Magill was given the "Hardest to Pass Award" for holding off a SDMC racer for at least six laps before finally being passed. COCSD "ringer" Jake Taylor won the "Needs More Seat Time Award" for finishing just off the "Very Fast" group podium, despite having no prior time in a kart at the San Diego K1 Speed. Jeff Wilkinson was unanimously chosen to receive the "Most Dangerous Racer Award" for bumping more tails than a disco queen. Steve Waid won the "Too Much Ballast Award" for complaining about having to race against lighter competitors.
The fifth Challenge was the most tightly contested in the series. We expect next year's Challenge to be just as close. Which club will I represent? It's kind of fun being a free agent. In the mean time, we'll go back to running our K1 Speed Fridays (on the second Friday of the month) and K1 Speed Saturdays (fourth Saturday of the month) just for fun. The track day season is also just around the corner. If you're not yet a member of the COCSD Racing Team, come join us and see how much fun it can be!
Craig Moya, COCSD and SDMC
Photos by Mark Booth, SDMC